We've been watching the Olympics every night and I've been as sucked into the drama and emotion as much as everyone else. But last night I discovered an event that brought out a different emotion: giggling like a schoolgirl.
The event: speed walking.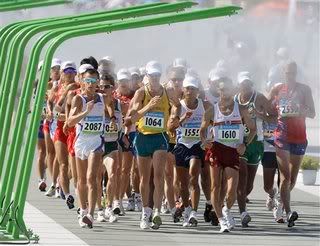 I know, I know. It's a sport. Athletes train just as hard as anyone else. It's a grueling race. But have you watched it? Particularly the men, which is what made me giggle every time the picture-in-picture popped up and showed those swiveling hips.
Ibis said Mexico used to be a powerhouse in speed walking and rattled off all the years they won the gold. To be honest, I tuned him out when he started listing Olympics before I was born. Clearly this is a source of national pride, but I didn't realize this was even a sport in the 60s.
I give the walkers a lot of credit. If I tried walking that fast, I'm sure I'd fall flat on my face. But the whole time we were watching I couldn't get this quote out of my head:
"His legs flail about as if independent from his body!"
Name the speaker for bonus points. :)
Images from SI.com