I'm getting close to finishing my book. Not my current wip - my actual notebook in which I'm writing it. My friend Kris gave me this last Christmas:
I thought it was perfect for my first attempt at hand-writing a novel. It has famous writers and their oh-so-inspirational quotes all over it, and despite its name, I really haven't had writer's block while using it. Aside from the big spiral that goes a little wonky at times, it's been great. It's sturdy enough that I can write with it in my lap, but not too bulky.
I'm this close to the end: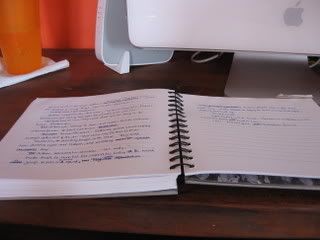 Yesterday I decided it was time to buy another notebook. I didn't want anything too big - I don't think I have THAT much left in this story - but I didn't want to buy something too small and wind up buying a third notebook.
It's back-to-school season so I knew there'd be a good selection, but I didn't realize that the majority of notebooks in Mexico are not lined, they have grids. Now I'm sure some of you might think that's not a big deal, but I'm so obsessive I know I'd end up putting a letter in each box. Or, as an extra challenge, two letters. I don't need that distraction.
I hoped to get one that has a sturdy cover for the same reasons mentioned above. There were a couple that were hard-covered and lined, but the covers left something to be desired. After much hemming and hawing, I passed on the big cherries and purchased this: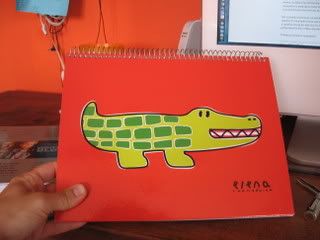 Yes, that's an alligator. (Or crocodile, I can never tell the difference.) I figure it's related to lizards, which are found in the desert, which is where my book concludes. Plus, red = sunburn = desert. Am I stretching it? Perhaps.
Really, I just thought the little guy was cute. :)