Do you hear that? That's the collective exhale of millions of Americans. I know not everyone supported Obama, but as he said last night, that's ok, he's still going to support YOU.
I truly believe he will make a difference. Of course it won't happen overnight, but the fact that he won when no one thought he could (at least not this soon) shows what he can accomplish when he puts his mind to it. My friend Spy said it better than I can in her post
Success, the President-Elect Obama Way
.
(Do you think spellchecks will update to include Obama now? Just a thought.)
Here in Zihua, the election made page 5: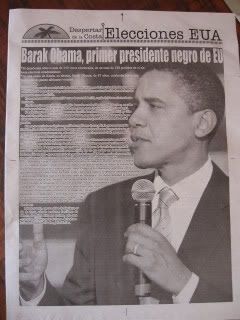 Mexican media covered the election but was more focused on the death of Mexican Interior Minister Juan Camilo
Mourino
in a plane crash last night. He was among eight people who died when their plane crashed onto a street in a wealthy Mexico City neighborhood. At least 40 people on the ground were injured and several cars were engulfed in flames. Mourino was a close friend and adviser to President Calderon, as well a leader in the fight against the violence that has overtaken Mexico.
This morning in the market I asked my regular vendors if they heard we have a new president, and they had. That made me as happy as the election itself. Hopefully the world will once again view the United States as a great nation.
PS – My mom reports that the proposition
passed
!