I think I'm in a post-election funk. The emotional high from Tuesday has sucked the energy right out of me and it's all I can do to get through my daily routine. I'm sure my writing has also added to the drop in adrenaline. The beginning pages of my story are emotionally trying and it's taken a lot out of me. I'm at 11,200 right now, but I only wrote 800 words yesterday, much lower than my 2000+ per day goal.
Anyway, I've promised myself I won't talk about NaNo too much so instead, I have pictures of a new puppy. My girlfriend (she of two Chihuahuas and two cats) bought ANOTHER Chihuahua Tuesday, so yesterday I went to her house to meet the little guy.
Here he is snoozing on her mom:
Now he's sleeping in my lap: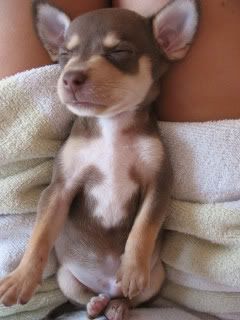 And to give perspective, here's my hand next to him: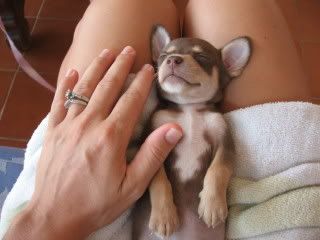 He seems a little young to already be away from his mom, but they're giving him milk frequently and basically watching him sleep. No names yet, but Bo was a top pick when I left (because he's bow-legged).
Have a great day & happy writing!