Zihua doesn't do the best job advertising some of its events, and most of the time we end up finding out about something two days after the fast. Well yesterday was an 8k race - Ibis found out a whopping four days ahead of time. He's a runner (he's run three marathons) but took a break at some point over the summer. About two weeks ago, he started running again in the mornings, and that's when he found out about this race.
The runners started near the entrance to Playa Larga, then ran along the main highway into town, ending at the downtown plaza. I went down to the plaza to wait for him, not really sure what to expect.
First, I couldn't find the finish line. I asked several shop keepers and a woman standing near a cooker full of water, and they all said the "meta" was the finish line. (Notice I finally got a picture of the police with their machine guns.)
I was confused. Do they climb the stairs after running 8k in 90+ degree weather? "It's very disorganized," another woman told me. I guess.
While we waited for the runners to appear, traffic continued passing on the street. I kept waiting for the police to come through and block it off, but they never did. A few people even stopped to look at the spectators, and a couple cab drivers asked me if I was waiting for a ride. *shakes head* Here's one of the first runners (he's wearing black & is between the two cabs):
Here's the stage. I assumed there would be a ceremony there afterwards, but they started taking it down after the first couple runners came through. By the time Ibis got there, the sign was gone and the runners just kind of stopped running in the middle of the crowd of people.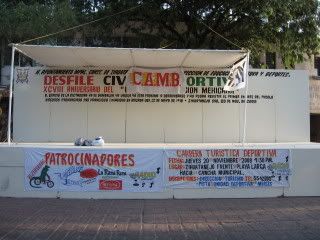 Ibis was around the 17th person to cross the finish line. They only wrote down the top three of each category so they couldn't tell him exactly. We figured out that number by counting sweaty competitors in the crowd. We also don't know his time because 1)they started late, and 2)I forgot to check my watch when he crossed. Here he is: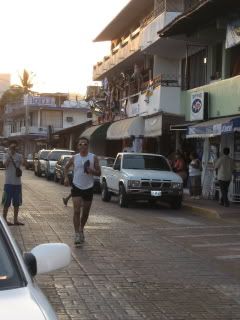 And once he got some water. Notice the police are dismantling the stage: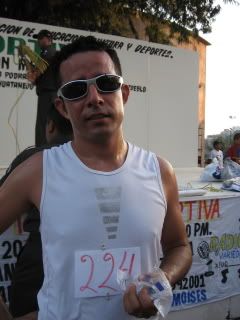 There were doctors on hand, and third person to finish needed medical attention (he was fine). Shortly after the race ended, an ambulance cruised by:
They gave away trophies to the winners and running outfits to the second and third place people. He says he probably won't do it again because it was so disorganized, and especially because they didn't block traffic while they were running on the main roads. Scary!
Finally, here's a picture I took while I was waiting for him: