Yesterday I was feeling a bit blah. I managed to write but it took awhile to get myself back into the groove. I kept thinking that I needed something more tangible to keep me going. Something physical that I could see and touch. The online world is wonderful but there's something to be said for life in the real world. That's where I'm writing and THAT'S where I need to be motivated.
Then inspiration struck.
A shirt I'd been wearing had those annoying loops in the armpits that clothing companies insist on stitching into women's clothes, and I finally cut them out. Five years after purchasing it. I thought the color was pretty and tossed the ribbons on my desk in case I thought of something to do with them.
Then I tried to write. I pecked out a few words here and there, then hopped onto the NaNo forums looking for inspiration. That's when I noticed my pretty ribbons were the same blue as the NaNo site. Interesting... I looped one around my wrist and decided to tie a knot (not very easy with one hand, let me tell you).
*drumroll*
Please allow me to introduce my latest creation, the NaNo bracelet: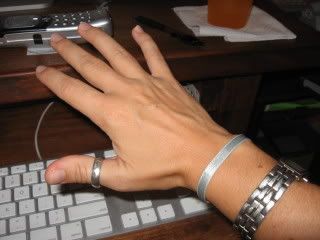 Are you done laughing yet? No? I'll wait.
*taps fingers on desk*
Ok, stop it.
I didn't set out to make a bracelet for myself, but I've heard of people asking friends to wear a bracelet for a designated period of time as a reminder or whatever of an upcoming event (Jessica Alba gave her baby shower guests bracelets to wear until she gave birth), and thought, why not do that for myself? Wear the bracelet until I finish NaNo? If I get sick of looking at the thing, that's just more inspiration to hurry the heck up and get it done. Genius!
Survey says: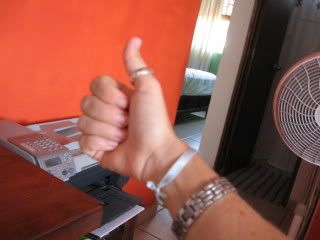 So what do you think?
*****
I updated my blog roll on the right. I deleted a couple that haven't updated in months so if you used to be there and no longer see yourself, let me know when you post again.