Well. The quiet day yesterday? It was short-lived.
Around 5pm state police were ambushed on the main highway, about 15 minutes south of Zihuatanejo. Four police officers were killed when the men fired a bazooka into their truck and it burst into flames.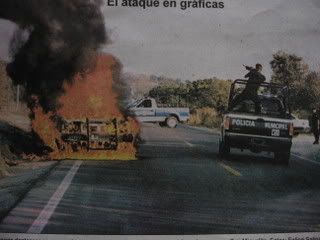 The police didn't even have a chance to fire their weapons. The assailants fled and while the national highway was closed for two hours, as far as I know, they haven't been found. The newspaper is reporting that the checkpoint between the airport and Zihua was also hit with bullets during the attack.
There was a different shooting not long after this and most of the smaller neighborhoods near the main road have been blocked off ever since. I saw my friend this morning and she said her street has been blocked since last night.
I'll post a link in English if I find one, but for now you can go
here
to see photos and read the story in Spanish.