Finally! You're looking at the latest high school graduate.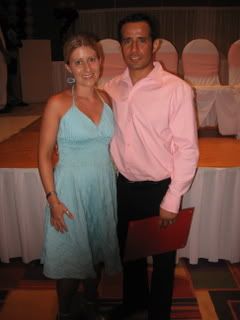 Ibis doesn't like it when I make a big deal out of this - he's embarrassed it's taken this long - but I am SO proud of him. It's not easy going back to school at age 32 (now 33) and sitting in a roomful of teenagers. But he did it and now he can move on to bigger things.
Our day began like any of his days off - a walk on the beach, followed by soccer and volleyball on the beach - but we lost power an hour before we had to leave, and that's where the fun began. The power cut off
before
he'd gotten up from a nap so we couldn't iron his shirt. The wind was so strong we'd had to close all the windows, and without fans it got very hot inside. We pulled a mirror off the wall and carried it near a window so we could see enough to get ready (it was still light out but the bathroom area is the darkest part of the house), when Ibis suddenly gasped.
"We have to stop by the market!"
"Why?" I asked. Surely he didn't have to bring a snack for the graduation ceremony.
"My only pair of black pants are at the tailor's."
After skipping over my sarcastic comments - no time for that - I remembered we can fit into each other's clothes. "You can wear mine."
He tried them on and aside from a little more lifting in the rear area than he's used to, they worked.
We hopped in the car and weren't three blocks from our house when the wind caught a huge iron sign and flipped it into the street. Two cars in front of us. We waited patiently, trying not to stare at the clock, as three policemen dragged it to the side of the road.
"We could've been killed!" I exclaimed.
Ibis just looked at me and continued driving.
I'd asked my Canadian friend to join us so I wouldn't be the only non-Mexican in attendance, so we picked her and her boyfriend up and drove to the ceremony.
Here's Ibis with some friends before they went into the ballroom:
He's in the center of the back row. Don't they look cute?
The ceremony was in Spanish, obviously, so I missed a lot of what was said. The crowd perked up when a performance group did two traditional Mexican dances, but otherwise no one paid much attention. The valedictorian was a girl I've met several times, and while I didn't understand most of her speech, I thought it was cool someone I knew received the honor.
The graduates gathered on stage for group pictures: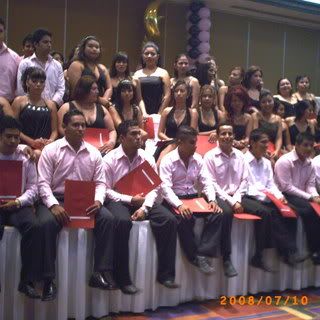 Afterwards, we piled into the car and were driving to dinner when Ibis leaned towards me.
"At the rehearsal yesterday, the director told me I was the valedictorian."
You can imagine all the questions that spilled out of me, the most predominant being "What?" and "You're sure?"
He didn't tell me before because he thought it'd be a nice surprise. He doesn't know what happened, but something must have exchanged hands between 8pm Wednesday and 7pm Thursday. What makes it worse is the "valedictorian" missed a lot of classes, something Ibis was told would cause a failing grade. This girl (I should say woman; she's in her 20s) is tight with the director of the school and apparently that does more than studying and showing up to class.
I was really pissed - still am - and said he should've said something to the director before we left, but he wanted to let it go.
We drove to the taco place and were eating our dinner when who showed up but the director and his family! I behaved and didn't go scream at him in English like I wanted to, but it really burned me to have him sitting so close to us, acting like nothing happened. We said hello as we left - I'd never met him and Ibis wanted to be polite - and as far as I know, that's the last we'll see of them.
I really wish we could do something. This may not seem like a big deal to some people, but it is to me. What would you do?