Remember my
post
last week where I was all jazzed to start the edits on After the Fall? Yeah, I haven't started those yet. I did, however, write a couple pages for my NEW, yet-to-be-properly-titled-or-talked-about-in-public, YA wip.
This is the first time I've been so aware of a character's voice right from the beginning, and I hope that means I won't have to spend a draft fixing voice issues (like I am now with ATF). I find it fairly easy to talk like a teenager, but I don't want THIS character to sound like the teenager in my other book, so I'm making the effort now.
Then I swear I'll get going on my edits.
In other news, Friday night Ibis and I went to dinner with my dad at our favorite restaurant, Il Mare. It's on a rocky outcrop between Playa Madera and Playa La Ropa and overlooks Zihuatanejo Bay. It's usually hit or miss whether or not we'll get a nice sunset, and we TOTALLY lucked out.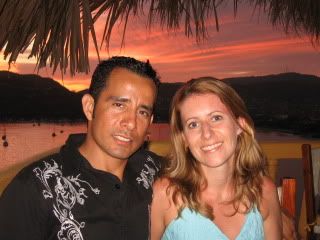 We went a little crazy taking pictures -- my dad's eyeballs were permanently locked in the back of his skull -- but how often do you get a backdrop like this? We joked that the people at the table next to us probably thought we were nuts, but then they started taking pictures too.
Now I can cross off "eat at Il Mare" AND "take fabulous sunset pictures with my sweetie."