On the heels of yesterday's post (aren't they all?), I have
more
exciting news: I'm getting one of these: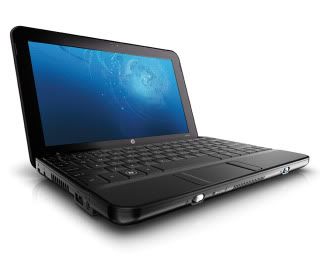 It's an HP Mini netbook and it should be arriving at my parents' doorstep this afternoon. SQUEE!!
It's roughly 6" x 10" and has a 6.5 hour battery, perfect for long flights and even longer afternoons at the beach. I'm sure many of you already understand the beauty of a laptop so you can sympathize with the fact that for all of my computing life I've been shackled to a desktop computer. A pretty amazing desktop computer, sure, but some days the last thing I want to do is sit at my desk for hours on end.
As you may be aware, I'm a Mac baby, and HP is a PC. I do know how to use Windows (sort of) and since my primary purpose for the netbook will be writing, I'm not too concerned that it's a different operating system than my Mac. I did an informal poll on Facebook and Twitter and almost everyone recommended this netbook PLUS I hear it not only comes with Solitaire, but it also has BEJEWELED!! Double squee!
(In case you live under a rock, I waste hours a day playing Bejeweled.)
My dad is letting me borrow his Verizon card so I'll have internet while I'm staying with my grandmother and since the netbook has a webcam, I'll be able to talk to my honey anytime I want. I mean, I'll be able to write all day. Yeah, that's what I meant.
Ooh, pretty.